Regardless of individual views on global warming, the fact that global markets gave a warm reception to President Trumps announcement on America pulling out of the Paris agreements is indisputable.
I am careful to not make this newsletter a commentary on political matters—there are plenty of forums for that.  But, political actions do affect the market and I do comment on the market response to those actions.
And, the response of the market is clear.  Global markets are "warming up" with the S&P 500, the Dow and the Nasdaq, along with Europe and Asia, all responding with bullish moves.  That is the reality.  And I trade according to reality and am currently predominantly long.  I am short in some sectors that are clearly bearish and am in profit both directions.
Here is a snapshot of my current P/L of open trades in my Live Trading Room: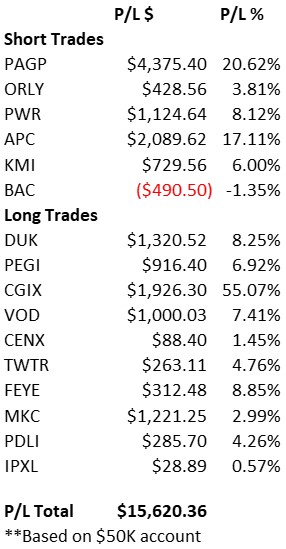 Want to get in on these trades?  I invite you to take a 30-day trial of my Live Trading Room for just $59, a 25% discount from the list price.  30-Day Money Back Guarantee.
Click this link to check it out: http://stage.followmetrades.com/products/discount-livetradingroom/
Gold is still Bullish.  Oddly, Gold continues up, despite the fact that the indexes are putting in record highs.  Over the long term, Gold moves roughly inverse to the indexes.  But, it is heading up and I have a near term target of up to $1328.
Also, somewhat odd, given the announcement from President Trump, Oil is bearish.  But that is the reality.  OPEC and Russian agreements to cut production aside, the technicals for Oil are Bearish.  That just "is what it is."  Despite many analysts calling for Oil to stabilize in the mid-50's, I have a target for Oil to get below $44.
I have high confidence in my estimates, but of course, I can be wrong.  The good news is that if I am wrong, the damage is minimal due to disciplined Risk Management.  If I am only right 50% of the time and I follow my Risk Management strategy, I'm a winner!  And I'm right more that 50% of the time . . .
That's it for this update.  As always, please "like" the video and send your questions and comments.  I try to answer every single one.
Take care, trade safe and I'll catch you on the next update.
Dean Jenkins
Follow Me Trades LLC
Work: (360) 464-1083
dean@followmetrades.com